Package Contents
UniFi Switch
Mounting Screws (Qty. 2)
Screw Anchors (Qty. 2)
Power Adapter*
Power Cord*
* Included only in the single-pack of the device
System Requirements
Linux, Mac OS X, or Microsoft Windows 7/8/10

Java Runtime Environment 1.8 or above recommended

Web Browser: Google Chrome (Other browsers may have limited functionality)

UniFi Controller software v5.3.x (or newer), available at:

ui.com/download/unifi
| | |
| --- | --- |
| | IMPORTANT: We strongly recommend using UPS backup and power regulation to prevent equipment damage due to stability issues with local AC power. |
Hardware Overview
Front Panel
System LED
Click here for detailed descriptions.
PoE In (Port 1)
Supports 802.3af/at or 48V Passive PoE to power the switch and can provide 48V (2-pair) PoE passthrough to port 8.
PoE Out (Port 8)
48V (2-pair) PoE output is Off by default. Enabling PoE output (via the UniFi Controller software) requires 24W input power via PoE In or DC input.
RJ45 (Ports 1 - 8)
RJ45 ports support 10/100/1000 Ethernet connections.
Top Panel
PoE LED (Port 8)

Off

PoE Disabled

Amber

48V Passive PoE

RJ45 Speed/Link/Act LED (Ports 1 - 8)

Off

No Link

Amber

Link Established at 10/100 Mbps

Flashing Indicates Activity

Green

Link Established at 1 Gbps

Flashing Indicates Activity
Back Panel
Ground
Ancillary grounding point for enhanced ESD protection.
DC In
To power the switch by DC input, connect a 48V power adapter to the 48VDC port.
Reset Button
This button serves two functions for the UniFi Switch:
Restart

Press and release the

Reset

button quickly.

Restore to Factory Default Settings

Press and hold the

Reset

button for more than five seconds.
Hardware Installation
Wall Mounting (Optional)

Grounding (Recommended)
The UniFi Switch is grounded through the Power Adapter. When powering the switch with PoE, ground the device by connecting the ancillary ground.
Loosen the

ground screw

and secure a ground wire (not included) to the grounding point.

Secure the other end of the ground wire to a grounding block or other grounded structure.
Connecting Power
OR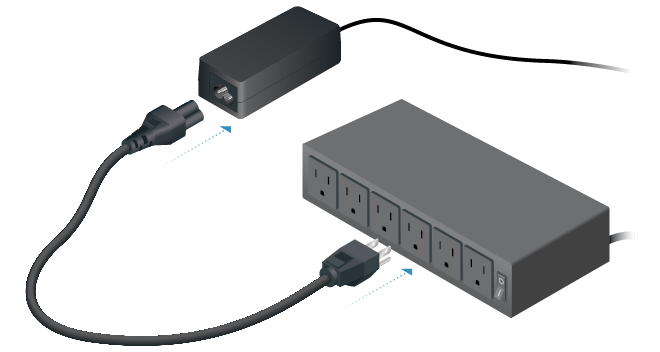 Connecting Ethernet

| | |
| --- | --- |
| | WARNING: Before enabling PoE passthrough in the UniFi Controller, ensure that the connected PoE device supports the PoE power (48V). |
| | |
| --- | --- |
| | WARNING: When both PoE In and DC Input are connected, the highest voltage power of the two will immediately pass through to PoE Out (if enabled). |
Specifications
US-8

Dimensions

148 x 99.5 x 30.7 mm
(5.83 x 3.92 x 1.21")

Weight

432 g (15.24 oz)

Networking Interfaces

(8) 10/100/1000 Mbps RJ45 Ports

PoE In (Port 1)

PoE Mode 1
802.3af/at (Pins 1, 2+; 3, 6-)
PoE Mode 2
48V (Pins 4, 5+; 7, 8-)

PoE Out (Port 8)

PoE Mode 1
48V (Pins 1, 2+; 3, 6-)
PoE Mode 2
Passive 48V (Pins 4, 5+; 7, 8-)
DC Input Mode
DC Passthrough (Pins 1, 2+; 3, 6-)

Power Method

(1) DC 48V, Max. 1.25A

(1) PoE Input, 802.3af/at (Pins 1, 2+; 3, 6-)

Power Supply

External AC/DC Adapter*: 100-240VAC, 50/60 Hz; 48V, 0.5A

Max. Power Consumption

12W (Excluding PoE Output)

Max. Passive PoE Wattage per Port

PoE Mode 1
12W @ 802.3at
PoE Mode 2
12W @ 48V
DC Input Mode
12W @ 48V

Passive PoE Voltage Range

Depends on Power Source

Line Rate

8 Gbps, Non-Blocking

LEDs

System
Status
RJ45 Data Ports
PoE; Link/Speed/Activity

ESD/EMP Protection

± 24kV Air, ± 24kV Contact

Operating Temperature

-5 to 45° C (23 to 113° F)

Operating Humidity

5 to 95% Noncondensing

Certifications

CE, FCC, IC
* Included only in the single-pack of the device.