Package Contents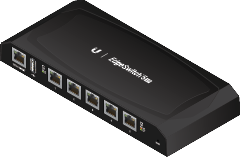 EdgeSwitch 5XP
Screws (Qty. 2)
Anchors (Qty. 2)
Power Adapter (24V, 2.5A)
Power Cord
Installation Requirements
Drill, 6 mm drill bit, and Phillips screwdriver (wall-mounting)
For outdoor applications, shielded Category 5 (or above) cabling should be used for all wired Ethernet connections and should be grounded through the AC ground of the power supply.

We recommend that you protect your networks from harmful outdoor environments and destructive ESD events with industrial-grade, shielded Ethernet cable from Ubiquiti. For more details, visit ui.com/toughcable

| | |
| --- | --- |
| | IMPORTANT: Although the cabling can be located outdoors, the EdgeSwitch itself should be housed inside a protective enclosure. |

| | |
| --- | --- |
| | WARNING: To reduce the risk of fire or electric shock, do not expose this EdgeSwitch to rain or moisture. |
Hardware Overview

Management Power/Link LED

Off

No Power/No Link

Amber

After bootup, the LED indicates power. After an initial link is established, the LED indicates a 10/100 Mbps connection. If the link terminates, the LED turns off until a link is re-established. If the unit reboots, the LED will again indicate power until a link is established.

RJ45 PoE LED (Ports 1 - 5)

Off

No Power over Ethernet

Green

24V Power over Ethernet

RJ45 Speed/Link/Act LED (Ports 1 - 5)

Off

No link

Amber

Link established at 10/100 Mbps

Amber Flashing

Link activity at 10/100 Mbps

Green

Link established at 1000 Mbps

Green Flashing

Link activity at 1000 Mbps

Management Port

10/100 Mbps port used to access the EdgeSwitch Configuration Interface.

USB Port

Reserved for future use.

RJ45 (Ports 1 - 5)

10/100/1000 Mbps ports for switching and PoE (also available for management by default).

Reset Button

To reset to factory defaults, press and hold the Reset button for more than 10 seconds while the unit is powered on.

Power

Connect the included Power Adapter to the Power port.
Hardware Installation
Place the EdgeSwitch on a bench top or other flat surface.
| | |
| --- | --- |
| | WARNING: FAILURE TO PROVIDE PROPER VENTILATION MAY CAUSE FIRE HAZARD. KEEP AT LEAST 20 MM OF CLEARANCE NEXT TO THE VENTILATION HOLES FOR ADEQUATE AIRFLOW. |
Wall-Mounting

Grounding the EdgeSwitch (Optional)
The EdgeSwitch is grounded through the Power Adapter; however, you can add optional ESD grounding for enhanced ESD protection.

Connecting Power

Connecting Ethernet

| | |
| --- | --- |
| | Note: PoE is disabled by default on all numbered ports and is not available on the Management port. To enable PoE on the appropriate ports, use the Ports tab in the Configuration Interface. |
Accessing the Configuration Interface
Connect to the Configuration Interface:
Ensure that your computer (or other host machine) is connected to the

Management

port on the EdgeSwitch.

| | |
| --- | --- |
| | Note: By default, you can configure the EdgeSwitch via any port; however, we recommend the Management port. (Access to the Configuration Interface can be limited to the Management port only. You can configure this setting on the Device tab.) |

Configure the Ethernet adapter on your host system with a static IP address on the 192.168.1.x subnet (e.g., 192.168.1.100).
Launch your web browser. Type

https://192.168.1.20

in the address field. Press

enter

(PC) or

return

(Mac).

Enter

ubnt

in the

Username

and

Password

fields. Click

Login

.
The Configuration Interface will appear and allow you to customize your settings. You can enable PoE on the Ports tab.
You can also manage your device using the Ubiquiti® Network Management System. UNMS™ lets you configure, monitor, upgrade, and back up your devices using a single application.
Specifications
ES-5XP

Dimensions

197 x 87.5 x 27.3 mm

(7.76 x 7.28 x 1.61")

Weight

250 g

(8.82 oz)

Power Input

24VDC, 2.5A Power Adapter (Included)

Max. Power Consumption

60W

PoE Out Voltage Range

22-24VDC

Max. PoE Wattage Per Data Port

11.5W

ESD Rating

±24 kV Air/Contact

PoE Method

Passive

Button

Reset

USB Port

2.0 Type A (Reserved for Future Use)

Processor

MIPS 24K, 400 MHz

System Memory

64 MB

Code Storage

8 MB

PoE Configurable Per Port

Management Port
N/A
Data Ports
Off/24V

LEDs Per Port

Management Port
Power/Link
Data Ports
PoE, Speed/Link/Activity

Networking Interfaces

Management Port
(1) 10/100 Ethernet Port
Data Ports
(5) 10/100/1000 Ethernet Ports

Operating Temperature

-25 to 55° C

(-13 to 131° F)

Operating Humidity

90% Noncondensing

Certifications

CE, FCC, IC